| | | | | | | | | |
| --- | --- | --- | --- | --- | --- | --- | --- | --- |
| | | | | | | | | |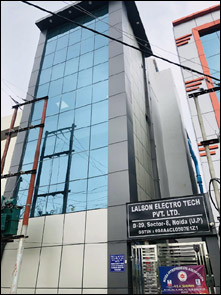 Company Profile
We are an ISO 9001:2015 Company. We are determined to do the best electroplating job of any kind with commitment of delivery with competitive prices. Our experience in the industry with our latest plant and machinery support us to achieve the same.
Brief History
LALSON ELECTROTECH PRIVATE LIMITED, An ISO 9001:2015 company in Specialized Plating on R. F.Connectors, Microwave Components, Imitation Export Jewellery, Auto parts and all types of electronic & electrical contacts in whole Northern India, was established in 1993 with one of most prestigious brands of jewellery i.e. KIM'S along with all other all other export oriented Plating needs.

LALSON ELECTROTECH PRIVATE LIMITED kept on expanding their capability from Jewellery to other specialized jobs i.e. R.F Connectors, Microwave Connectors & electronic & electrical terminals/ contacts, auto parts etc. by investing in for specific machinery for the specific job.

The company is backed by a well qualified technicians and latest technology that produce high quality products for leading companies all over India.
Key Features Of Our Company
Tri-Alloy Plating
Tri-Metal Plating
Alballoy Plating
Suco Plating
Silver Plating
Gold Plating
Nickel Plating
Electroless Nickel Plating
Copper Plating
Brass Plating
Tin Plating
And Many More- As Per Your Requirement
Plating Applications
Microwave Filter
Radio Frequency (RF)
Electrical Contact
High Wear
Auto
Medical
Coaxial Connectors
Verticals Served
» Imitation Export Jewellery
» Industrial Connector
» Telecommunications and RF Microwave
» Medical
» Auto industry
Our Strengths
We have plating plants with leading capacity in the industry i.e. can do 25000 nos. / day for connectors and 400 kg. /day for Imitation Jewellery.
Committed for timed delivery and best quality
Capable of accepting any technical challenge in this area.
Fantastic vendor base i.e. Best chemical and equipments supplies from India and overseas.
We are always updated on latest technology around the world in the field of Plating which make us stronger to serve our customers better…always.
We are approved by various buying agencies for their respective overseas clients i.e.
Nokia Siemens Network, Monsoon, Target etc.
We coat and plate all parts of all kinds of metals including Steel, Zinc and Aluminum Die-cast, Brass, Cast and Forged Iron, Hardened Grades even on Stainless Steel.
Product Ranges
The Broad Categories Of Products That We Handle Are :
Microwave Connectors : Gold, Silver, Tri-Metal, Tin & Nickel or any other finish as per client's need.
Imitation Jewellery : Gold, Sliver, Brass, Rose Gold, Gun Metal and any other finish or as per references.
Others : All export oriented finishing jobs in various finishes per client's need.
Our Major Customers Are:-
Monsoon Accessorize
San Frontiers
Alpine Apparels P. LTD.
Ranika Export Design
Green Fingers (P) LTD.
Huber-Suhner
Srinar Communications Pvt. Ltd. - Chennai
Microqual Techno (P) Ltd. - Bangalore
Microqual Techno (P) Ltd. - Rudrapur
VXL Technologies Ltd. - Faridabad (A Birla Group Company)
Lambda Microwave (P) Ltd. - Faridabad
IST LTD.
Control & Switch Gear Ltd. - Noida